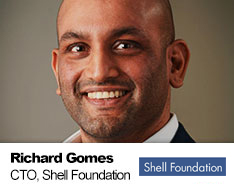 Richard Gomes /
Shell Foundation
Richard Gomes is Chief Operating Officer and Chair of SF's Investment Committee.
Richard is responsible for strategy, programme delivery, research and performance management. He holds several board roles across the portfolio, including Tusker, Value for Women and Future Fit.
Richard joined SF in 2009 and has supported over 50 social enterprises to build consumer demand, raise investment and secure support from policy-makers. He has authored several reports examining the lessons learned from SF's work, including Enterprise Solutions to 2030 and Accelerating Access to Energy..
Prior to this, Richard worked for the Shell Group across a range of financial and commercial roles in the UK, Europe and Asia. He holds a BSc in Economics from the University of Warwick and is an alumnus of the London School of Journalism.