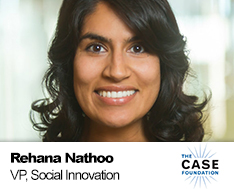 Rehana Nathoo /
The Case Foundation
As far back as I can remember, I've been fascinated with learning. Whether it be new skills or perspectives, I'm most intrigued by the things I don't know. That desire has afforded me some of my most exhilarating and challenging experiences, and I hope that journey continues.
Rehana joined the Case Foundation in 2016 as part of the Social Innovation team. Rehana serves as Vice President of Social Innovation, focusing specifically on the Foundation's efforts around Impact Investing.
A self-identifying New Yorker, Rehana worked at the Bank of New York Mellon to help design the firm's Social Finance program. She worked closely with the Wealth Management business to build internal expertise around Social Finance, and engage clients on this topic. While at BNY Mellon, Rehana also created a prototype for the firm's first Impact Investment Fund.
Prior to BNY Mellon, Rehana was a program associate at The Rockefeller Foundation, helping to manage the grantmaking and thought leadership efforts around Impact Investing and Innovative Finance.
After graduating from the Whitehead School of Diplomacy at Seton Hall University with an M.A. in Development Economics and Foreign Policy, Rehana joined the UN Capital Development Fund, frequently travelling to East Africa to explore innovative financing solutions.
Most recently, Rehana also served as an Adjunct Professor of CSR and Social Finance at NYU Wagner School of Public Service.
Originally from Canada, Rehana still lives for hockey (Go Pens!) and the great outdoors. When not trying to explain to her grandmother what impact investing is, Rehana is usually torturing herself in a spinning class or eyeballs deep in a good book.