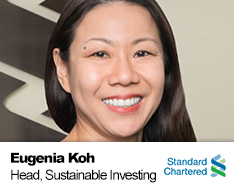 Eugenia Koh /
STANDARD CHARTERED
Eugenia Koh is Head of Sustainable/Impact Investing and Engagement Strategy at Standard Chartered Bank. She is also a key member of the global Strategic Solutions Proposition team, which works closely to help frontline colleagues drive an increased focus on the private bank's top, next and new 100 clients globally. In her role, she is responsible for the development and implementation of the sustainable investing proposition for clients, alongside driving overall client and employee engagement.
As part of client engagement, she runs the Future Global Leaders Programme, developed specifically for the bank's ultra-high-net-worth next generation clients. Prior to joining the Bank, she worked in the COO team at Barclays, and was responsible for communications, client insights, employee engagement for the private bank in Asia, Middle East and Africa.
She was also tasked with evaluating and exploring the implementation of an impact investing platform for Barclays in Asia. She started her career at Weber Shandwick, and worked on a number of award winning public relations campaigns spanning thought leadership to corporate social responsibility.
She is author of "Dawn Kwan. Art Awakening", a chronicle of child prodigy Dawn Kwan's journey as a child artist, which is available in all National Libraries in Singapore.