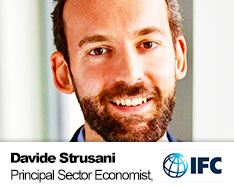 Davide Strusani – Principal Sector Economist, Development Impact Measurement Department, IFC
Davide is a senior executive and economist in development banks and global consulting firms with twenty years' experience, gained working for over 50 large organizations including governments, private clients, industry organizations and NGOs, in over 40 countries worldwide, with a focus on emerging economies.
Davide is a recognized expert on impact investing in developing economies and on the measurement and assessment of impact in emerging markets; on sustainable finance and financing for development; and on the economic and social impacts of telecommunications, digital services, disruptive technology, digital finance, private equity and venture capital. He is known for designing development impact assessments frameworks; designing, implementing and evaluating private sector project, public policy and regulatory initiatives, to maximize impact in developing economies; and for fostering strategic partnerships across the financial and digital ecosystems and in the areas of sustainable development.
At the International Finance Corporation, the private sector arm of the World Bank Group, Davide leads the Economics team that assesses, measures and evaluates impact with a focus on venture capital and private equity fund investing, on technology, digital services, and telecommunications. Amongst other engagements, Davide is a Guest Lecturer at the Georgetown Master of Science in Finance, where he lectures on Impact Investing and Assessing and measuring the development impact of investments in emerging economies.