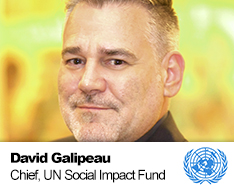 David Galipeau /
UNITED NATIONS
David is founder and Chief of the United Nations Social Impact Fund (UNDP-UNSIF), which brings together venture philanthropists, family trusts, foundations, corporations, governments and private sector investors to chart a new course toward creating a SDG-aligned 'blended financing' platform – balancing both social and economic returns.
UNDP-UNSIF is a founding member of:
• Sustainable Finance Collective Asia – a partnership with ING Bank, Credit-Suisse and FMO, the Dutch development bank (SFC-Asia.com)
• SDGAx – global ecosystem of entrepreneurs, achievers, makers, & financiers established to identify SDG-aligned investments in next-gen tech including artificial intelligence (AI), machine learning (ML) technologies, Internet of Things (IoT), bionics, robotics, drones, and material science. (SDGAccelerator.org)
Prior to joining the UN, David held senior management positions within the strategy, digital and business development area with Top-3 global corporations, before becoming an 'dotcom' entrepreneur in the late 90's where David founded three internet start-ups in – one failed (boo!) and the other two were successfully acquired in 2000 and 2001 (yay!).