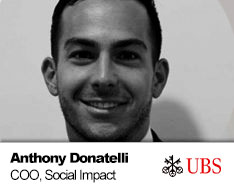 Anthony Donatelli, Chief of Staff, Philanthropy Services, UBS & Head, Philanthropy Services UK, UBS
Having worked for UBS in various capacities in New York, Sydney, and London, I joined UBS Philanthropy Services in April 2015. We help our clients maximize their impact from giving through investing. Our team has advised over 1500 clients and are passionate about finding ways to catalyse solutions to the pressing social and environmental issues the world faces.
As Head of Philanthropy Services UK, I am responsible for the end-to-end delivery of our platform to clients, including serving as the responsible executive for the UBS UK Donor-Advised Foundation and UBS Optimus Foundation UK. As Chief of Staff, I oversee the global implementation of the philanthropy platform, including marketing and distribution of UBS's unique social finance offering (Development Impact Bonds, Programme Related Investments, for example) as well as managing and curating global thought leadership, insight trips to locations like Liberia and Nepal, and conferences/events.
The UBS Donor Advised Foundation gives our UK clients all the benefits of their own charitable trust without any of the associated costs or regulatory requirements. It is a simple, flexible and anonymous way to engage in philanthropy.
UBS' Optimus Foundation is an offering to clients which helps them to get the best possible social return on the grants they make. We help clients co-invest in game-changing, strategic philanthropy, giving them the opportunity to invest in projects that can be successfully scaled to help solve global problems.
I graduated with dual Bachelor of Arts degrees from Boston College in History and Education and earned my MBA through Duke University's Fuqua School of Business.