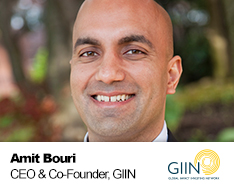 Amit Bouri is the Chief Executive Officer and Co-Founder of the GIIN, where he leads the largest global community of impact investors dedicated to increasing the scale and effectiveness of impact investing.
Amit co-founded the GIIN in 2009, following the launch of the Monitor Institute's, Investing for Social and Environmental Impact, a landmark report, which he helped to conceive and develop. His work would eventually lead to the growth of a global network around the concept of impact investing and provide a blueprint that would seed the GIIN's creation.
Today, Amit dedicates his work to engaging industry leaders, institutional investors, foundations, and leading financial institutions all over the world to advocate for greater integration of social and environmental factors in all investment decisions, and to develop the tools and resources needed to effectively mobilize more capital towards impact investments.
He has authored many articles and has been frequently featured in leading publications such as the Financial Times, The Economist, Al Jazeera, The New York Times, The Wall Street Journal, Bloomberg, Fast Company, Barron's, and Pensions & Investments. He is also a sought-after speaker at events worldwide.
Amit has significant experience in both the for-profit and non-profit sectors and previously held positions at Bain & Company, Elizabeth Glaser Pediatric AIDS Foundation, and within the corporate philanthropy units of Gap Inc. and Johnson & Johnson. He holds an MBA from Northwestern University's Kellogg School of Management, an MPA from Harvard University's John F. Kennedy School of Government, and a BA in Sociology and Anthropology from Swarthmore College.
He lives in Brooklyn with his wife and their daughter, who inspire his life's work to building a more sustainable and equitable future for all.
Follow Amit on Twitter @AmitKBouri
Amit Bouri's podcast: Next Normal: Reimagining Capitalism https://open.spotify.com/show/7CsTagNFJH6nXdWazSaXlP